P. O'Regan
Managing Director,
Managing Safely in Construction MSIC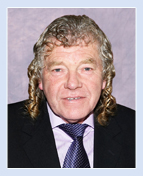 Paddy O'Regan is a highly experienced Construction Director with over thirty years experience in the construction industry and has a reputation for successful project delivery and attaining client satisfaction through performance in the field.
This is achieved through a high level of construction knowledge and practical construction experience that enables him to lead his teams to successful completions. His strengths also lie in his ability to build and motivate productive teams to achieve the client's objectives.
Paddy's professional character and approachable nature along with his wide experience make him one of our most successful managers.